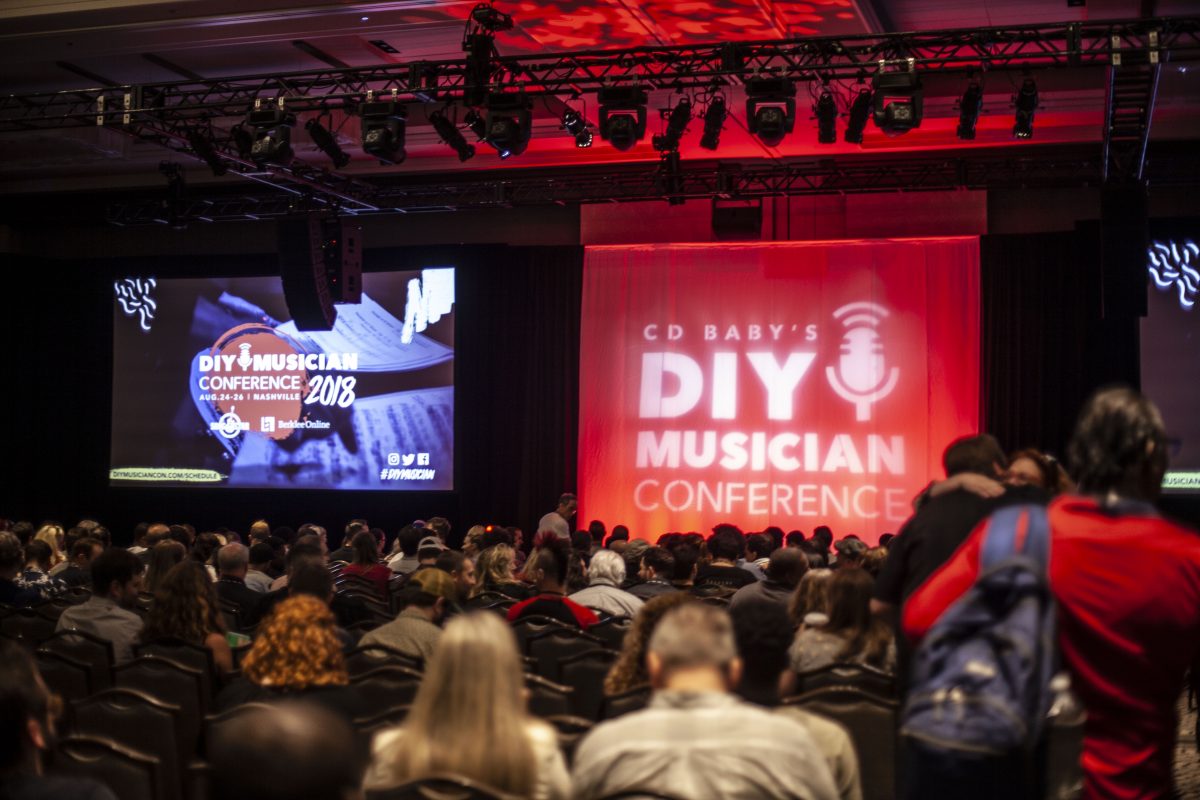 A quick recap of three amazing days in Nashville with the DIY musician community.
The DIY Musician Conference — which happened between August 24-26 in Nashville, Tennessee — is an impossible event to summarize, but I'll try all the same:
Dozens of educational sessions over three days
Easy networking with top music brands such as Spotify, YouTube, Shure, Spire, and so many more
The chance to jam with musicians from all over the world
One-on-one mentorship with industry pros
Showcasing and promotion opportunities
And the experience of learning from like-minded DIY artists
CD Baby plans the first five of those bullet points, and yes, we're very proud of how much attention we give to programming relevant sessions with actionable advice, as well as lining up plenty of cool experiences (like attending a recording session at Ocean Way, songwriting workshops with Jill Sobule, and much more).
But attendees bring most of the magic on that last point, and it's really what puts our conference over the top: Community. In fact, my favorite moment of the whole weekend was having dinner on Saturday night with a handful of attendees, and sharing not just what we'd learned that day, but also tips we'd picked up along the way in our everyday efforts to make and promote original music.
There's a real sense of family at the DIY Musician Conference.
Or rather, many many small and overlapping families. These groups of indie musicians meet at the conference and then continue to help one another for years to come. At CD Baby, we can pat ourselves on the back for the conference's focused music-biz education, but the thing we're proudest of is the thing we can take the least credit for — DIY musicians helping one another.
Upping your music game: Playlisting, YouTube, songwriting, team-building, email marketing, copyright, and more
There were dozens of sessions during the conference, and we live-streamed fifteen of the talks that happened in the ballroom.
You can watch them at any time HERE.
There were also a lot of great sessions happening in the smaller rooms, and we recorded audio for many of them. Subscribe to The DIY Musician Podcast and keep an eye out over the next few months, as we'll be posting the best of those sessions as podcast episodes.
Photos from the DIY Musician Conference 2018
Get ready for Austin, Texas in 2019!
Next year we're taking the DIY Musician Conference to Austin, "the live music capital of the world."
Details in the video below:
Were you with us in Nashville?
If you were at the 2018 conference, hopefully you posted your favorite moments using the hashtag #DIYmusician, but I'd also love to know what sessions and experiences stood out. Holler in the comments.