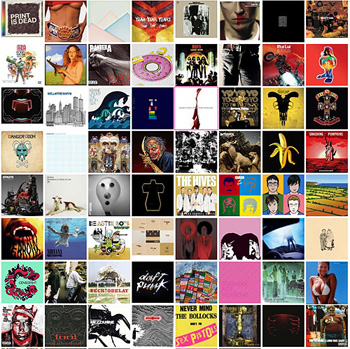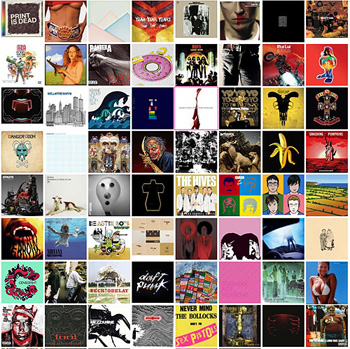 [This article was written by CD Baby team member Priscilla Shaw.]
As a CD Baby rep, I see a lot of album covers. I also see a lot of artists trying to submit their music for distribution WITHOUT album artwork.
I always let them know that their album needs artwork in order for us to distribute the music, even if it's only going to be a digital release.
Once in a while I get asked, "Why do you need artwork?"
EVERYBODY needs artwork!
First impressions are key with music discovery.
The art you use to present your album is another way of branding yourself. Why would you want to pass up that opportunity? Your album artwork is a reflection of your style and story, every bit as much as your music.
I can't speak for other consumers but personally when I'm searching for new music I click on album covers that look interesting to me, and I skip over other titles that aren't as visually appealing. I'm sure I've missed out on some great music because of it, but that's just the way it goes. I visually choose what I want to hear (like most other listeners).
What does your album art say about you?
Clearly you won't be able to intrigue or please everybody with a single image, so the look and style of your album cover artwork should be genre appropriate. Make sure the image reflects you and your music in some interesting way. You've put so much hard work into your music; now it's time to treat it with respect and make sure that the cover art is worthy.
Four tips for generating album cover art ideas
Don't get discouraged if you aren't sure what direction you want to take your artwork in, or if you have a creative block. Instead…
1. Look at album artwork from artists you admire in your genre.
2. Ask yourself: why do I like about this artwork? What works? What doesn't work? Write down your answers (so you can apply those principles to your own design).
3. Check out some design blogs, or get lost down the rabbit hole of a Google image search.
4. See what the trends are with current albums cover artwork on a music platform of your choice.
Four DIY tools for creating album cover artwork
Having to make your own artwork might seem like an inconvenient process, but if hiring a graphic designer or a professional photographer is out of the question, there are many free (or cheap) DIY options out there you can use to create quality images.
Smart Phone apps are the most accessible solution. It's as simple as taking a photo with your phone, changing the filter, making a few edits, adding text, and bam you got yourself cover art!
I recommend downloading an app and just playing around with the features for a while to see if it's a tool that works for you.
Here are four that I personally like to use (of course there are many other great apps out there):
1. Phonto (http://phontogra.ph/) — If you follow the link you can see examples. This app also offers a wide range of free fonts.
2. Piclab (https://museworks.co/piclab/) — This App offers stylistic fonts.
3. Union (http://unionapp.co/) — If you are okay with coughing up $1.99 on this app it is fun and has a small learning curve but you can combine images to create great illusions. I would suggest checking out the site to see other examples.
4. Pixlr (https://pixlr.com/) — This app is good if you know your way around Photoshop but don't  have access to the program. You can check out Pixlr on a browser and use the web editor.
—
Do you have any tips or tools to recommend for artists who are designing their own album cover art? Let us know in the comments below.
[hana-code-insert name='newsletter-free-updates' /]
[hana-code-insert name='pr-music-featured' /]