Twitter #Music is a new web and iPhone-based app that allows users to discover new music by emerging artists who are trending (or "surfacing") on Twitter.
It's a pretty cool tool that focuses on making great songs go viral, and already-viral songs go… viral-er. but there ain't a whole lot of info out there yet on how to use Twitter #Music — so we thought we'd help break it down for you.
How do I access Twitter #Music?
If you're on your computer, you can access Twitter #Music at https://music.twitter.com/i/chart/popular.
For iPhone users, search for "Twitter #Music" in the App Store. You might have to scroll through a few results, as Twitter #Music is so new that it hasn't been properly indexed in the search yet.
It looks like this in the App Store:
Click to install it. Got it? Good — now let's get started.
How do I use Twitter #Music?
Twitter #Music is a great way to discover new tunes and find out what people are listening to out there in the Twitterverse.
If you're using Twitter #Music on your computer, you'll see this:
If you're using Twitter #Music on your iPhone, you'll see this:
Playing and sharing music on Twitter #Music
When you click on any of the featured tracks, a silver, circular "play" button will appear in the bottom left-hand corner. The default player uses iTunes' API to stream 30 second clips for each track.
You can also expand the player to access additional information. On your computer, it will display like this:
* Click the "iTunes" button to purchase tracks.
* Click the share button to compose a tweet which automatically @mentions the artist and links to the track in Twitter #Music.
* Click the artist name to unlock more information from the artist's Twitter profile, like so:
If you're listening on your iPhone, the music player will look like this:
* The blue icon to the left with the image of the artist links you to their profile on Twitter.
* The green button links you to iTunes.
If you're a premium subscriber to Rdio or Spotify, you can listen to full tracks instead of 30 second clips — if that song is available in the corresponding catalog, of course.
How do I connect Twitter #Music with my premium Spotify or Rdio account?
To connect Twitter #Music to your Rdio or Spotify account, click the blue "Play Full Tracks" button in the top right of your browser — and you will be led through the authentication process:
For iPhone users, click on the dropdown menu at the top center of the app (the one that says "Popular" in this image), and you'll see the buttons to begin the Spotify or Rdio authentication process: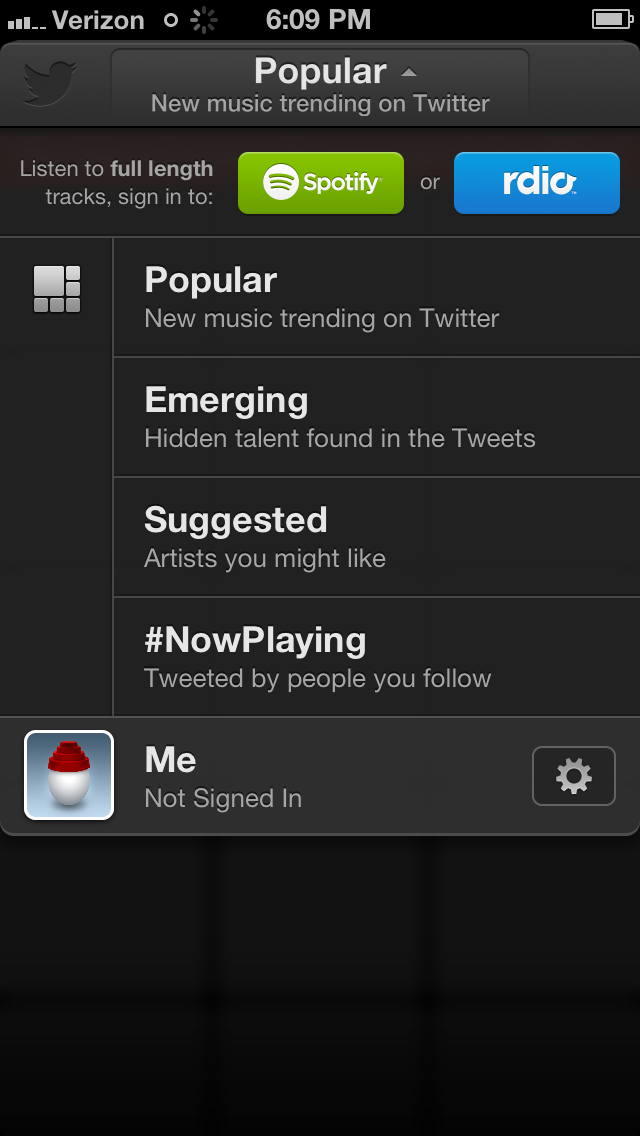 How can I use Twitter #Music to discover music?
There are a handful of ways to interact with music through this new Twitter app. For iPhone users, those options are displayed in the same dropdown menu displayed above ("Popular," "Emerging," "Suggested," "#NowPlaying," and "Me.") iPhone users can also toggle between these options by swiping the touchscreen.
To toggle between these options on your computer, click the square icon in the top left of your screen and a dropdown menu will appear, as show here:
————
The Twitter #Music categories are described fairly succinctly in the dropdown menu, but here's a little more context for each:
Popular — The "popular" screen shows you what music is trending across the entire Twitterverse.
#NowPlaying — This screen displays music that the people you follow have tweeted about.
Me — This screen calls up music by artists you follow or whom you've tweeted about.
Emerging — "Hidden talent found in the Tweets." Hmmmm. Sounds mysterious.
Suggested — This screen displays targeted recommendations. I'm actually not sure how Twitter is determining what music you're likely to enjoy, but based on the ones they served up for my "Suggested" page, it's not too far off.
And if you already know exactly what you what to listen to, use the good old-fashioned search function in the upper right hand corner.
————–
Hope that helps you get started using Twitter #Music. Soon you'll be discovering great emerging artists that are trending on Twitter.
Are you liking the new app? Have you discovered any glitches? What do you love about it? Let us know in the comments section below.
[Image from Shutterstock.]